When I first started making sugar cookies and royal icing, I used a recipe that called for meringue powder. My icing never was perfectly smooth, it had a lot of clumps and would dry spongy. Eek! One day, or should I say days, it didn't dry at all!
That's when I started searching the trusty Internet for a new recipe. I read several articles and watch many a YouTube video about what royal icing recipe people really liked. Then as the experimenter that I am, I tried several and found a favorite. I've been using this recipe for six months now, and after refining it a little bit to make it more economical (ca-ching!) we have a bonafide winner!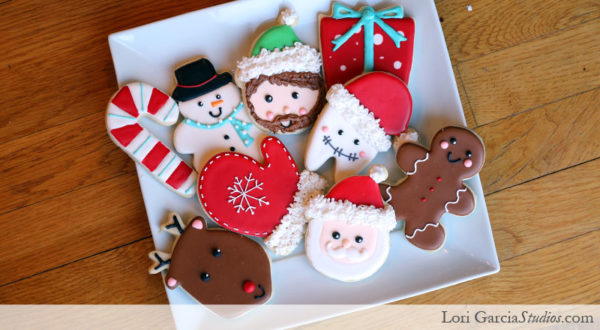 | | |
| --- | --- |
| | |
Place powdered sugar into mixing bowl of a stand mixer. Mixing beater and a bowl would also work, but a stand mixer is more convenient.

Add egg whites and water to bowl.

Using a whisk attachment on your stand mixer, start the speed on low and whisk until the ingredients come together.

Once the ingredients are a mixture, turn the speed to high/medium high and let whisk for two minutes.

After two minutes, your icing should be whipped and thick. This is a good basic royal icing. This thickness would be a good glue for gingerbread houses. If you are using this royal icing to decorate cookies, scoop some out into a smaller bowl to work with and cover this main bowl with a damp towel. (You need both the cover and the moisture to prevent drying out.)

For Cookies: Once you've scooped out a bit into a smaller bowl, add your food coloring. We like the liquid gel coloring. ( You can buy Wilton, Hobby Lobby brand or Americolor)

Color your icing (noting that the color will deeping with time!) We usually make and color our icing the day before we want to use it, as the color changes quite a bit over night.

If you make your icing the day before, you'll want to wrap it up in plastic wrap overnight. If you make it more day in advance, make sure that you double wrap it, as only one wrapping isn't enough to prevent leaking (trust us, we know!)

Once you've achieved the right color, you can then thin out the icing with water to outline, dimension or flood consistency.

We'll make a video and add pictures soon on consistency and such to help you even more. Good luck and post a picture if you've used this recipe. We'd love to see your results and if you love it as much as we do!