Once you've made these homemade biscuits, you'll never pop canned biscuits again. Well, maybe you will on those lazy days, but why would you when these bake up quickly and freeze beautifully.
My go-to recipe for biscuits is fluffy, moist on the inside, with a bit of a crispy on the outside. If you have a food processor, it makes it even easier. 
But why do your biscuits have sprinkles on them? Well, that's because my grandparents once sprinkled on some when the grandchildren were visiting to make it special. Well, we loved it so much, that they always added sprinkles for us. I don't always add sprinkles for my kids — sorry boys — but on a special occasion we honor my grandparents this way.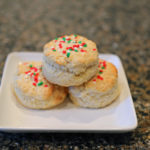 Print Recipe
Fluffy Homemade Biscuits
Fluffy biscuits that are crispy on the outside and soft on the inside. You'll love them!
Ingredients
4

cups

flour

8

tsp

baking powder

6

tsp

sugar

1

tsp

salt

1

cup

butter

cold, cut into tablespoon-sized pieces

2

large

eggs

1 1/3

cup

milk
Instructions
Combine dry ingredients in a food processor. (If you don't have a food processor, place them in a large mixing bowl.)

Combine dry ingredients by pulsing the food processor, using the s-blade attachment.

Add the butter to the food processor and pulse till the butter is in small pieces and the mixture looks uniform. (If you don't have a food processor you'll have to cut in the butter with a pastry tool by hand.)

Pour mixture into large mixing bowl.

Make a well in the middle of the dry ingredients. This is where you will put your wet ingredients.

Crack the eggs and place them in the well. Use a wooden spoon to scramble the eggs in the well.

Add the milk to the well and then combine all the ingredients. It's key not to over mix here. You want to stir the mixture just until it's combined. Overmixing will overactivate the gluten in the flour, making your biscuits tough.

Roll out the dough onto a floured surface and use a biscuit cutter or the mouth of a glass to cut out uniform biscuits. Be sure to flour the mouth of the glass or cutter so it won't stick to the wet dough as you cut out the biscuits.

Press scraps together and roll out a second time. Note, that the more you re-use the dough, the tougher the biscuits will get.

Place biscuits on a baking sheet that has been lined with parchment or has a silpat and place in a 450 degree F oven (about 230 degree C) and bake for 10-12 minutes until golden brown.

Serve warm or let cool and place in a freezer (still on the baking sheet so they freeze individually) for about an hour. Take frozen biscuits and place in zip top bag and place back in the freezer. Then you can pop one out individually as needed for meals.